Freight Forwarding Services
We are Top Rated Freight Forwarding Company In Lahore Pakistan. Avail Reliable And Cost-Effective Logistics Services in Lahore.
info@packersandmoverslahore.com
Best Freight Forwarding Company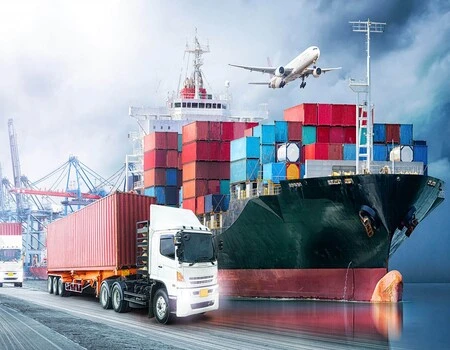 Welcome to our Freight Forwarding Services page. We are top rated Freight Forwarding Company in Pakistan. As your premier logistics solution provider, We specialize in the transportation and logistics of goods. We make sure that your freight arrives at its destination on time and in perfect condition.
Our team of Experienced Professionals is dedicated to providing top-notch customer services. We offer personalized solutions to meet the unique needs of each of our clients. We understand the importance of timely and efficient delivery in today's fast-paced business environment. So we strive to exceed your expectations.
We offer a wide range of Freight Forwarding Services to fit the specific needs of our clients.
Contact The Best Freight Forwarders
Email: info@packersandmoverslahore.com
Professional Freight Forwarding Services
Freight Forwarders act as intermediaries between the shipper and the various transportation companies. These companies transport goods across the borders. They handle all the details of the shipment, including arranging for the appropriate mode of transportation, obtaining necessary documentation, and ensuring that the goods are loaded and unloaded properly.
One of the key benefits of using a Freight Forwarding Company is that they can save time and money for the shipper. By handling all the logistics of the shipment, they can often negotiate better rates with Transportation Companies. They can also streamline the process so that the goods arrive at their destination as quickly and efficiently as possible.
Cost-Effective Logistics Company
Cost-effective Freight Forwarding Services refer to the transportation and logistics services. These are designed to minimize the overall cost of shipping goods. It is without compromising on the quality of the service. How our Transportation Company achieve cost-effective services:
Negotiating discounted rates with shipping carriers: Our Freight Forwarding Company has established relationships with shipping carriers and we negotiate lower rates for our clients.
Utilizing economies of scale: By consolidating multiple shipments into one container, Freight Forwarders often reduce the per-unit cost of shipping.
Using multiple modes of transport: Our Freight Company also uses a combination of different modes of transport (such as air, sea, and road) to find the most cost-effective solution for each shipment.
Route Optimization: Our Freight Forwarders use routing software to find the most efficient and cost-effective routes for shipments.
Being A Top Class Freight Forwarding Company, We Are Committed To Providing Our Clients With The Highest Level Of Services and Support. Contact Us Today To Learn More About How We Can Help Your Business Stay Ahead Of The Competition.
Experienced Freight Forwarders
It is important to note that while cost-effective Freight Forwarding Services can save money. But they should not come at the expense of quality or timeliness. It's always important to work with a reputable and experienced Freight Forwarder. It is to ensure that your shipments are delivered on time and in good condition. So we work with only the best carriers in the industry to ensure that your freight is handled with care and attention. Our state-of-the-art technology allows us to track your freight in real-time and keep you informed every step of the way.
Our Search Terms For Freight Forwarding
Best Freight Forwarding Services
Freight Forwarding in Lahore
Freight Forwarding Company
International Freight Forwarding
Freight Forwarders In Pakistan
Freight Forwarding Services in Pakistan
Logistics Company In Lahore
Best Services Moving Overseas
International Shifting services